" Please fasten your seat belts, we may encounter some turbulence as we enter the clouds ahead," the pilot announced on my flight back from a big computer conference in Denver last month. The lady sitting next to me leaned over and admitted: "I never really understand what the pilot means by that announcement." It reminded me that you may also need some clarity about cloud computing for your ANSYS simulations. Bumps along a cloud-computing journey can be caused by concerns about security and where the data is stored, lack of licensing options and/or end-user productivity. We have taken steps to ensure you can move in and out of the cloud smoothly, and in analogy with what I just wrote: in our case "no seat belts required."
Innovation Takes Flight with Cloud Computing
Together with our cloud-hosting partners, we offer on-demand access to secure, turnkey, off-site simulation platforms. You can upload your simulation model and go.
The variety of computer server choices and ANSYS licensing options means you'll be able to tap into a solution that is right for your business — no matter its size — and you'll only pay only for what you need. There's no need to worry about a lack of computing and licensing capacity, costly in-house hardware upgrades or impeded innovation. In the cloud, the computing power you need is waiting for you when you need it, rather than you waiting for internal computing resources to become available.
Tweet "Check out @ANSYS customers sharing their cloud computing experiences in new cloud webinar series."
But you don't have to just take my word for it. Our customers are sharing their cloud computing experiences in our cloud webinar series. These interesting webinars are free to watch on-demand, and you can register for upcoming webinars.
For example, Richard Childress Racing (RCR) uses ANSYS on the Rescale cloud platform as part of its CFD strategy, which includes full-car simulation runs of CFD models that are typically around 200-240 million elements. "We are a culture of innovation here at RCR," said Patrick Budd, Corporate Communications Manager at RCR, during this webcast. "It's critical to be coming up with new ideas on a monthly, if not weekly basis. We put a very strong emphasis on engineering technology and custom manufacturing."
Because small advantages can make a big difference on the racetrack, Seth Morris, CFD Team Leader at RCR, said: "Being able to get more cloud compute capacity is exactly what we're after. As our mesh grows, we don't have to invest in increasing our on-site cloud compute capacity."
In the pharmaceutical and life sciences sector, Juan Pacio, Simulation & Process Engineer at CRB, recently shared how his company uses ANSYS on the Penguin Computing On-Demand cloud platform. CRB is a consulting, design and construction firm with a strong presence in the life sciences industry. The company uses CFD to solve challenges when designing facilities, equipment and processes.
During this webinar, Pacio said the cloud offers more flexibility. "We can freely pick the number of cores and processor type on demand. It is instantly scalable," he said. "We can add or decrease the storage capacity. There is no need to add additional equipment for peak use, which happens probably only one or two times per year."
To continue on our turbulence theme, I want to share one more customer example with you. KeelWit Technology, a Spanish engineering company, explained that it turned to the cloud because of a fluctuating project workload combined with the ability to run higher-fidelity simulations of a vertical wind tunnel for skydiving.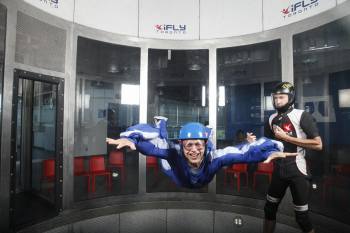 "Using ANSYS Fluent software and Gompute HPC cloud resources, we reached the accuracy level our clients required for our turbulence and heat transfer calculations. Thus, we have been able to implement real modifications on their equipment and thoroughly optimize our designs in a shorter period of time." ~José Maria Cancer, the CEO, CFO and a Partner at KeelWit Technology.
Serving Different Simulation Destinations
As the diversity of the three examples above show, different customers clearly have different requirements and practices for their engineering simulations. The full webinar series includes even more use cases for engineering simulation in the cloud—including HPC scale-up and software utilization optimization, job scheduling, collaboration across geographically distributed teams, and to satisfy mobility requirements. Because every customer is different, we give our customers an open choice of cloud platform, cloud vendor, cloud solution, and flexible cloud licensing options.
In fact, one of the most common cloud computing questions from our customers is how licensing will work in the cloud. When you choose to run simulation in the cloud, you don't necessarily need to buy new licenses. You can use the licenses you already own, purchase new licensing for the cloud, take a hybrid approach, or choose to pay per use for on-demand bursts to the cloud.
To learn more, watch our webinar series showcasing cloud-hosting partner solutions.